This past summer [2015] I went to Lagos, Nigeria with so many expectations but had no idea how they would be fulfilled. I was going there to work and to have fun. I quickly learned that it was impossible to do both simultaneously; you really do not mix business with pleasure. I had to start work immediately when I arrived in Nigeria. I had written my lesson plans while I was still in the States and edited them over and over throughout my thirteen-hour flight, since I could not fall asleep. Upon arrival, my aunt wanted me to rest A LOT before starting work, so that I could be fully energized. I had no time for that. I met with the school officials of Opebi Senior Grammar School in Ikeja, Lagos the next day and got everything underway to start teaching the pupils and to begin the construction of the water filtration system in the school compound. I was ready!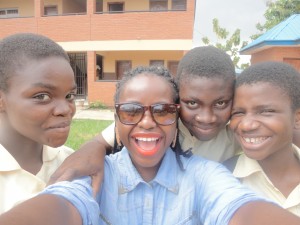 Ibironke with students from Opebi Senior Grammar School
I want to say teaching the students was my favorite part of the whole work experience. I lectured about water sanitation, which includes the pollution, sanitation, and retention of water. There were over 100 students in the general assembly ranging from tenth to twelfth grade. I was nervous that the students wouldn't be receptive of what I had to offer, that my young face would translate to me being one of them and therefore, they weren't obligated to listen to me, or that my accent and fast paced speech would a barrier between us. Thankfully none of this was true. They were so attentive and unbelievably respectful. I have never seen such focus before. The students held on to my every word and followed along although the teachers said the topic was out of the scope of what they were learning. I paused several times while lecturing to ask questions to make sure they were following. It was so exciting to see hands fly up and hear them answer each question correctly. It was even more exciting to hear their ideas when I asked thought-provoking questions about how we could resolve the issue at hand and how to possibly prevent a future water crisis in Lagos.  After the lecture, I would ask how I did presentation wise and they told me that I did just fine and they understood every word. "Aunty, it was okay. We heard everything." They called me "Aunty," which was expected because the Nigerian culture requires that younger ones respect their elders and superiors. It was still, however, a shocker. When they saw me around the compound, they would kneel or bow their head to greet me and were always excited when I asked to take pictures with them. I appreciated their happy spirits.  I also appreciated how grateful they were.
When the vice principal announced that I would be installing a water filtration in the school compound, there was a loud applause and sea of smiles. It was so heartwarming to see how appreciative they were of such a simple contribution. They stood at attention, in the blazing sun, when the vice principal made the announcement and did not want to go to class when dismissed. "Aunty, thank you for the clean water!" I did not realize how big of a deal it was to them. The architect explained to me that they could now save money instead of buying sachet and bottled water before coming to the school, since they had clean water in their own compound now.  Construction of the system started immediately and took about three weeks to complete.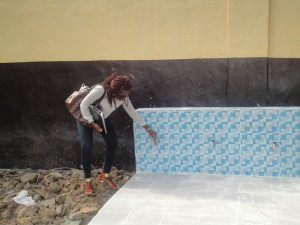 Besides teaching, I also got taught a few things myself. I worked at the Lagos State Water Corporation and at the Lagos State Environmental Protection Agency with surface water and groundwater. While at the Corporation, I visited different water work sites at Adiyan, Iju, Iponri, and Ijora to see where the water was sourced, how it was filtered, treated, and distributed to Lagosians. At the Protection Agency, I sat in on labsessions during sample evaluations checking for fecal coliform in water from different sources and sitting in on microbiology classes about water pollution and sanitation. At the end of my time with both organizations, I felt like somewhat of a professional water inspector and a teacher, as well.
The trip altogether was a blast. I mentioned earlier that it was impossible to have fun and work at the same time but that is not entirely true. I expected a different kind of fun, something similar to what a tourist would experience. In the course of working, however, I learned so much and enjoyed the company of all the people that I worked with, which helped me develop a new interpretation of fun. I would love to do a project like this again in the near future.