Speak your mind about Africa and issues in African Studies! 
Wesleyan students are welcome to post their responses to recent African Studies events, course happenings,  or to comment on Africa in the news.  To submit a post send an email to: wesafricablog@gmail.com 
(All posts are subject to editorial review and inappropriate content will be removed.)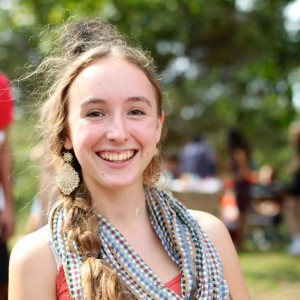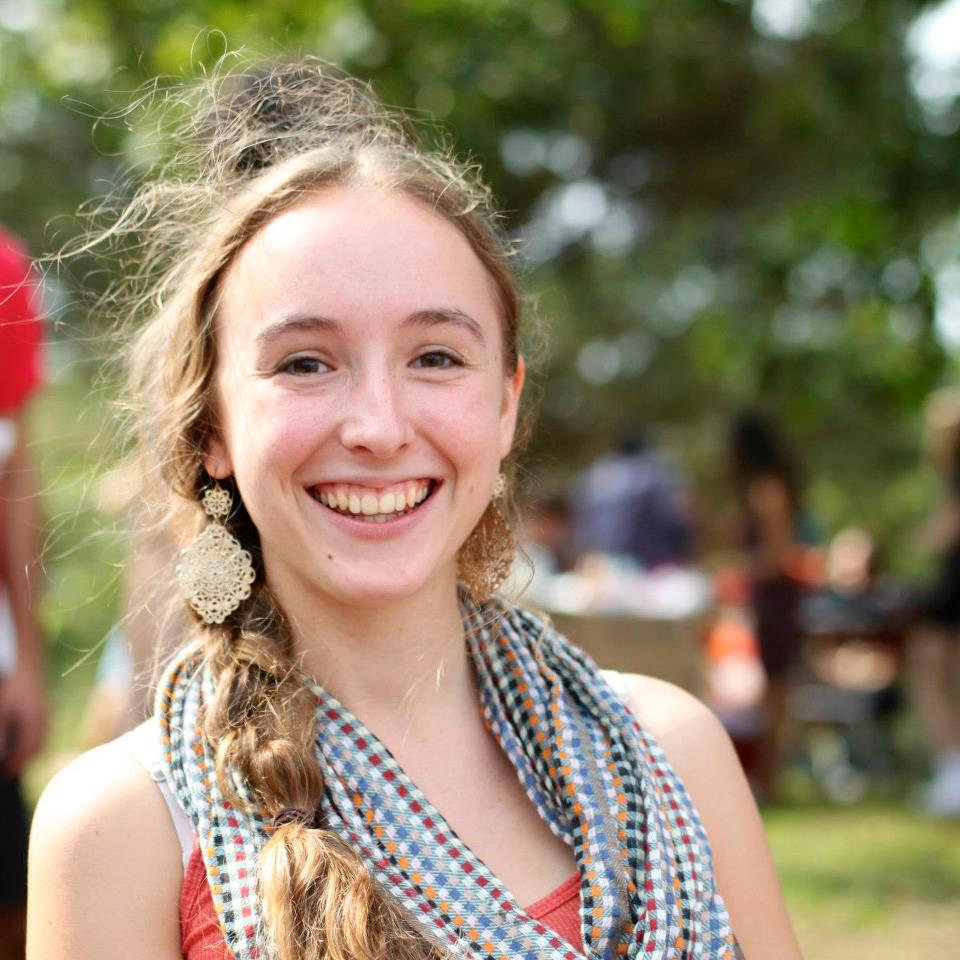 What motivated you to work on/write a thesis on the Mau mau?
For me, I am more passionate about something when I have a personal connection with it and so having friends at Wesleyan who were specifically from Kenya, I had already had conversations with them about living in Kenya and what they felt about Kenyan identity, Kenyan patriotism and so talking to them about that and then also learning about Kenyan history specifically in some of my classes and so I got interested in how the past can influence identity today and so once I learned about the Mau Mau and the rebellion, I was really intrigued by thinking about how Mau Mau might have implications in Kenyan society beyond affecting the way history has unfolded and also looking at how people think of themselves as Kenyans
What are these classes that have Kenyan history?
For me the one that incorporated the most of Kenyan history was modern Africa with Prof. Twagira and I had also taken a class in high school on world history, which had specifically touched on Mau Mau and so I ended up doing a research project in my history seminar class, History 362, and that's where I decided to focus more of my research into.
How was the research for your thesis? Was it hectic? Did you actually find information because when I do research on Kenyan history I never find anything online.
It was definitely hectic and I would say also that my research was kind of separated into two main things: the research that I did in Kenya was in the archives or in interviews and then i did a lot of research afterwards reading books, articles, random newspaper reports, magazines, articles, so that stuff was kinda more like your typical research which I was more comfortable with, because I've done it before, But I can say doing research in Kenya was a bit more difficult only because i had never been there before and so I didn't necessarily know how things worked, such as getting around the city and even the basics, and it was also my first experience in an archive and so i had to figure out how to find documents I needed out of the thousands of papers that they have, so that was really hard.  For the interviews, it was really difficult to try and reach out to people and try to get them to share their thoughts and experiences with me when they had never met me. I mean they don't know me, why should they talk to me, and so even if they were super welcoming, I had to get out of my comfort zone in order to do that.
Did you say it that your research was mostly difficult in Kenya?Did you face the same intensity of difficulty while doing research in the US?
It was difficult outside of Kenya for different reasons, because there has been so much written about it in different ways and so it was really hard to do all this research and get all this information and find a way to think about it when you already have so much to think about it either through secondary sources, the newspaper articles in the past, the reports today about the past or novels or films. There is just so much information and so it was kind of intimidating to even figure out where I was going to start or how I was going to incorporate all these different sources to try and formulate an argument when you have so much information. So it was definitely also difficult in a separate way from doing research in Kenya.
Was Wesleyan helpful? The librarians for example?
Yes, I'd say so. I met with them to get some basic things, but I had honestly done a lot of the research on my own in some ways. I found the Wesleyan library website to be very helpful. I mean you can get books from other colleges, and it is so easy to find and search for things that connect directly to you. But they were definitely helpful in terms of figuring out the structural things such as citation problems and finding specific sources for the very particular sources that I wasn't sure how to get, then they were very helpful.
Do you think the administration could do something to help with that kind of research, because there are certain places which are underrepresented in academia, so do you think Wesleyan could do something to encourage students to be interested or do research in African studies in general?
I would love for that to happen, I think that would be great. I think a basic starting point would be to incorporate a more outside ways of looking at things. For instance, in the history department, majors such as College of Letters, like I considered majoring in C.O.L., but it really focuses a lot on Europe only, so I think it would be really great for majors like that or other majors to actively incorporate things from other cultures, and other ways of thinking of it other than their standard canon of philosophy or literature or something else because if it's done in such a way, people sometimes don't know what they're interested in because they haven't experienced it and so they don't try and learn anything and I think it's so important to go outside of what you know and one might find out that they really like it and explore more. Besides that, the African studies events are great but my friends don't know about them and so figuring out different ways to advertise. Or a way to advertise beyond the people who would obviously go to these events.
What is your advice to students who are thinking of doing a thesis on the continent?
That's exciting, I'd tell them to definitely do it because I definitely went in without knowing anyone at the time who was in Kenya, because all my Kenyan friends from Wesleyan were not in Kenya at the time, and yet the experience itself was really fulfilling. And it is really great I think to have access to sources that you wouldn't get because I was told that I could have gone to the archives in London and looked at the colonial documents, but that wasn't really what I was looking for and I think that it's so easy then if you don't go to the place that you are researching on specifically and only look at outside sources that you sure are comfortable going to, then I think you miss so much exciting information. Its also a new experience, you are meeting new people and seeing a different culture. It's also very different to study something on books and literature than to actually go to places and talk to people because then you are seeing the society from a different side and it's a lot more personal, and I think you have a better image and understanding of the society. It's definitely worth it.
Side note: Having a connection there (in the African country that you will be going to) with someone who can show you things can make your experience 10 times better.
How interested are you in this? Do you plan to continue your work on Mau Mau?
I am done with Mau Mau for now, I think I need a bit of a break,  but I don't quite know what I'm gonna do in the future so there is a real possibility that if I decide to go get a PhD that I'll continue doing something connected to my work, but less concretely I am really hoping that whatever I decide to do, I'll have a job that focuses on Africa, like working in a country like Kenya. I'd really like to do something that has an international focus, so that I can continue to do the African studies that I have been doing here.
Interview by:Claudia Kahindi, Class of '18.
Update from Holly Everett in Durban South Africa
December 2015
I've been having a fantastic time living ten minutes from the beach, learning little bits of Zulu, eating as much cheap and delicious fruit as I can get my hands on, and – of course – doing lots science.
I've been working with Prof Thumbi Ndung'u at the KwaZulu-Natal Research Institute for TB & HIV (K-RITH) since the end of September. My part of the lab is interested in understanding how HIV affects anti-TB immunity in the lungs. My contribution to this story is going to be using a novel assay my lab in Cambridge helped to develop in order to look at the transcriptional profiles of antimicrobial genes involved in the innate immune response to TB. Because it's science, progress comes in fits and spurts, and everything takes longer than you think it will. Naturally, I'm still optimizing and haven't gotten to the real meat of the question just yet. For those of you with knowledge of flow cytometry, I'm working with alveolar macrophages, which are very autofluorescent due to their size and granularity. This complicates everything else in the panel, including the RNA FISH aspect as the target sequences are also conjugated to fluorophores. Hopefully I can have some real data and possibly a figure or two by the end of my time here to share with you all.
Another exciting part of my position here is that I get to spend two mornings a week at one of the large public hospitals in Durban collecting patient samples. We work with bronchoalveolar lavage fluid, which you obtain by sticking a bronchoscope down into the lobes of the lung, flushing them with half a pint of saline, and then sucking back as much liquid/cells you can. We collect samples from patients with a variety clinical indications, ranging from TB (with or without co-morbid HIV), lung and blood cancers, to sarcoidosis, lupus, and interstitial lung disease. The pulmonologists have been very welcoming and eager to teach me, and I get to assist the nurses in distributing the fluid for various clinical and research needs.
Most of all it's been a real pleasure to get to talk with folks before and after the procedure and make connections between their medical history/clinical presentation and what I observe from their cells. For example, seeing a black pellet of cells (for the non-scientists, your cells should be white) in a tube from a person who has smoked for 30 years is just another reminder not to smoke!
Since TB is so common in SA, especially in this province, we treat all samples as potentially infectious. Accordingly, all of our work is done in a BSL3 facility to prevent the inhalation of TB-containing aerosols. This has been another transition for me coming from a HIV background where a full suit and respirator isn't necessary, though it's surprisingly enjoyable!
I've also dipped my toes into a bit of a side project, which has — unknowingly — been made possible by Professor Taylor. Another part of the lab works on mucosal associated invariant T (MAIT) cells, which participate in the innate response to bacterial infections, and express a MHC class I – related (though non-polymorphic) protein. The ligands for this receptor are still being elucidated, though there have not yet been any endogenous ligands identified. However, with the skills I learned in Professor Taylor's Biomedicinal Chemistry course, I've been able to do some preliminary molecular docking studies that are giving a pretty good indication that my PI may have found the first endogenous ligand! So cheers to Professor Taylor and Wesleyan for those skills!
Thank you again for each of your contributions to make this possible for me. In particular, thank you to MB&B and African studies for the financial support, and to Professor Oliver for sticking with me when my plans were in jeopardy.
Update from Brodigan winner Ibironke Otusile '15
September 2015
This past summer [2015] I went to Lagos, Nigeria with so many expectations but had no idea how they would be fulfilled. I was going there to work and to have fun. I quickly learned that it was impossible to do both simultaneously; you really do not mix business with pleasure. I had to start work immediately when I arrived in Nigeria. I had written my lesson plans while I was still in the States and edited them over and over throughout my thirteen-hour flight, since I could not fall asleep. Upon arrival, my aunt wanted me to rest A LOT before starting work, so that I could be fully energized. I had no time for that. I met with the school officials of Opebi Senior Grammar School in Ikeja, Lagos the next day and got everything underway to start teaching the pupils and to begin the construction of the water filtration system in the school compound. I was ready!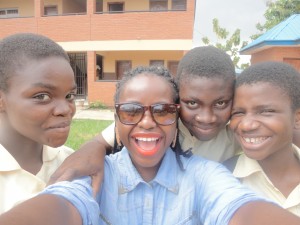 Ibironke with students from Opebi Senior Grammar School
I want to say teaching the students was my favorite part of the whole work experience. I lectured about water sanitation, which includes the pollution, sanitation, and retention of water. There were over 100 students in the general assembly ranging from tenth to twelfth grade. I was nervous that the students wouldn't be receptive of what I had to offer, that my young face would translate to me being one of them and therefore, they weren't obligated to listen to me, or that my accent and fast paced speech would a barrier between us. Thankfully none of this was true. They were so attentive and unbelievably respectful. I have never seen such focus before. The students held on to my every word and followed along although the teachers said the topic was out of the scope of what they were learning. I paused several times while lecturing to ask questions to make sure they were following. It was so exciting to see hands fly up and hear them answer each question correctly. It was even more exciting to hear their ideas when I asked thought-provoking questions about how we could resolve the issue at hand and how to possibly prevent a future water crisis in Lagos.  After the lecture, I would ask how I did presentation wise and they told me that I did just fine and they understood every word. "Aunty, it was okay. We heard everything." They called me "Aunty," which was expected because the Nigerian culture requires that younger ones respect their elders and superiors. It was still, however, a shocker. When they saw me around the compound, they would kneel or bow their head to greet me and were always excited when I asked to take pictures with them. I appreciated their happy spirits.  I also appreciated how grateful they were.
When the vice principal announced that I would be installing a water filtration in the school compound, there was a loud applause and sea of smiles. It was so heartwarming to see how appreciative they were of such a simple contribution. They stood at attention, in the blazing sun, when the vice principal made the announcement and did not want to go to class when dismissed. "Aunty, thank you for the clean water!" I did not realize how big of a deal it was to them. The architect explained to me that they could now save money instead of buying sachet and bottled water before coming to the school, since they had clean water in their own compound now.  Construction of the system started immediately and took about three weeks to complete.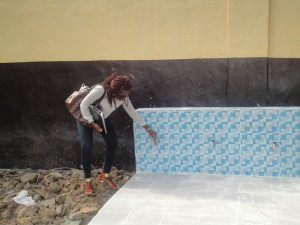 Besides teaching, I also got taught a few things myself. I worked at the Lagos State Water Corporation and at the Lagos State Environmental Protection Agency with surface water and groundwater. While at the Corporation, I visited different water work sites at Adiyan, Iju, Iponri, and Ijora to see where the water was sourced, how it was filtered, treated, and distributed to Lagosians. At the Protection Agency, I sat in on labsessions during sample evaluations checking for fecal coliform in water from different sources and sitting in on microbiology classes about water pollution and sanitation. At the end of my time with both organizations, I felt like somewhat of a professional water inspector and a teacher, as well.
The trip altogether was a blast. I mentioned earlier that it was impossible to have fun and work at the same time but that is not entirely true. I expected a different kind of fun, something similar to what a tourist would experience. In the course of working, however, I learned so much and enjoyed the company of all the people that I worked with, which helped me develop a new interpretation of fun. I would love to do a project like this again in the near future.
SUMMER 2015
Update from Teresa Paterson '16
I traveled to Kenya this summer with the goal of focusing my senior thesis research on understanding the motives behind and the interpretations of the Mau Mau rebellion against the British colonial government in the late 1950s. However, after conducting interviews with Kenyans, I was left with many questions focusing on memory: specifically, how is public memory is constructed in Kenya about decolonization and how do people's individual memories demonstrate about that period influence their perceptions of current political issues?
Teresa speaking with a Mau Mau veteran
While researching I was particularly struck by how much memories of the rebellion were shaped by people's understandings of ethnicity and the government's changing relationship with the movment even changing portrayal of it over time. My most exciting interview was on my second day in Nairobi, where I first came in contact with the complicated relationships between the ethnic group most associated with Mau Mau, the Kikuyu, with other minority groups and how their historical relationships influenced Luo understandings of Mau Mau in terms of ethnicity and the portrayal of Mau Mau in Kenya.
Similarly, I was surprised by the diversity of people's reactions to discussing the rebellion. For such a major event in Kenya's history, a surprising number said they knew very little about Mau Mau. It was difficult to tell whether this was because those Kenyans truly did not know about it, whether they believed their knowledge was not worth sharing, or whether they were unwilling to talk to a Westerner. This last issue was one I faced repeatedly.  People feared how Kenyan history would be portrayed by an outsider, especially given how Mau Mau had originally been depicted as barbaric and atavistic by the British at the time; even those willing to speak with me expressed the importance of sharing their version of Mau Mau with the rest of the world. Given this hesitancy, I came back to the U.S. with an increased consciousness of the responsibility that comes with writing about another culture's history. After returning home, I was left grappling with how to accurately convey my interpretation of events while always checking how my status as a Westerner might influence my understanding. The big question remains how to balance my responsibility to share the ideas and beliefs of the Kenyans I interviewed with my own understanding of Mau Mau in history.
Update from Olivia Glick '16
Olivia was in South Africa this summer researching post-Apartheid politics for her senior thesis.  She is seeking to understand how South Africa's post-Apartheid political transformation seemingly failed to lead to widespread economic development today.  She sends these photos from her trip.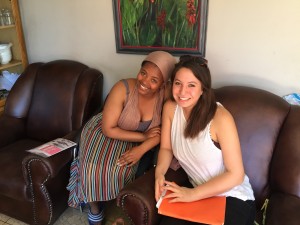 Olivia speaking with with Lolo a woman who lives in RDP housing in the Hout Bay Township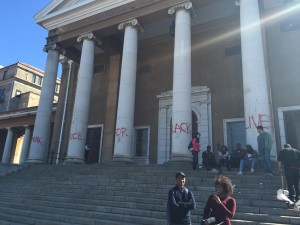 Olivia captured student protests around the Univeristy of Cape Town campus to commemorate the two year anniversary of Marikana shooting.
The writing across the columns reads "max price for black lives."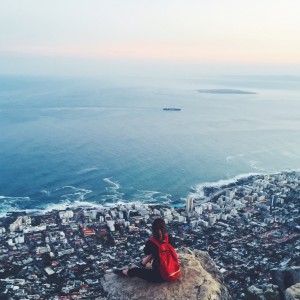 Sunrise hike on lions head!
Update from Brodgian winners Orelia '15 and Geneva Jonathan '15 : Building a Women's Center in Badgji (South Sudan)
Geneva and I had originally intended on showing up, driving to Badgji and building the center; however, this was not so. When we first got to Juba we met with an architect named Dunston Mundeer who we contacted before our trip to help us with an architectural design for the building, and one that would make sense for maternity ward. Mr. Mundeer was extremely fundamental in Juba [South Sudan's capital] because he had already set up appointments with the Ministry of Health for us before we arrived. Our first week in Juba, which we thought would be used for collecting materials was instead filled with numerous meetings with officials from the Ministry of Health as we worked out a design that the government would approve (as it is a community project and not a private maternity center). We were also very pleased to hear that the government is willing to help provide some services for the ward once built, including medical supplies, and in the future a full time doctor.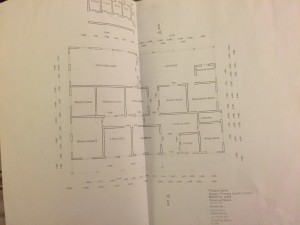 Architectural plans for the new Badgji Women's Maternity
In our second week we met with the Moru community male youth and elders in Juba, as it was deemed crucial to ask for their permission and inform them of the project before we begin construction. After a lengthy (four hour long meeting) we received the blessing and support of the community, but were also informed of some very unfortunate news.
Unfortunately security in Western Equatoria [province] severely deteriorated in the beginning of June. Due to what was initially reported as a cattle raid, gun violence has increased and an entire village was burned down (supposedly by the Dinka- the main ethnic group backed by the government- as the president is also Dinka). After the village was burnt down, which resulted in the death of approximately 9 people, the SPLA has been very prevalent in Western Equatoria, but not in a good way. We were told that specifically in the case of women travelers the journey (a 6 hr drive) was less than safe, as just last week seven women were pulled from a car and kidnapped. At first we were still planning to drive out there with a security detail, but even that was deemed unsafe by the major general of police in Western Equatoria, Charles Boza, also a Moru community elder and family friend, and they did not want to put us at risk. Instead we negotiated a couple of other things. We arranged for three women to travel to Juba from Badgji, which was still a risk  for them, but they realized the importance of the situation and came almost immediately. Thanks to the Brodigan fund we were able to pay for their travel because of its expensive cost (due to security issues).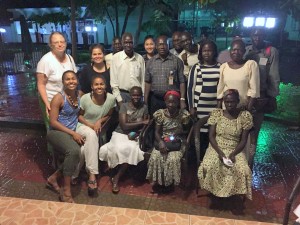 Orelia and Geneva pictured to the left front.
We had an incredibly successful and hopeful meeting with these women: Rina Awadio (the current midwife in the village), Naida Kyila, and Ngnes Juma. During this very very long meeting, we heard the concerns of the women and evaluated their specific needs so we could cater to them in the architectural design. We also exchanged ideas on the forms of community development that would be most useful to the community. Most importantly these women stressed that they would mobilize the community in preparation for construction of the building and would begin preparing the foundation for the center.
As for the majority of the funds. We bought some materials (cement and materials for brick making) for the foundation but these are being held in storage until the road is safe for them to be transported to Badgji. Because we were unable to go to the village, we opened up a business account with the funds we raised (from the Brodigan award, The university of Vermont, two churches affiliated with the United church of Christ, and three Private donors) at a Kenyan bank in Juba. We will be able to access these funds online, and we have put our Juba contact Dunston Mundeer, our architect, in charge of the funds on the ground (however no withdrawal can be made without contacting us first). In opening this account, we also received recognition by the government of South Sudan as an NGO (this was necessary as many bank accounts are being watched by the government right now and being accused as bank accounts supporting the rebels).
The construction of the foundation is scheduled to begin next month. In the mean time, Geneva and I, along with our partners from UVM, Karen and Valerie (who will remain in Juba for another two weeks) have worked out other fundraising plans, and we intend to return to South Sudan in December, in hopes that the security issues have improved and we can conduct the mental health community meetings as we had initially planned.
From my [Orelia's] standpoint, the South Sudan I have visited over the past two years is falling into paranoia and insecurity. We had a lot of trouble dealing the government, and it took a lot longer to get their approval than we expected. While Dr. Alexander Dimitri, the director of reproductive health at the Ministry of Health was in full support of our project, we found it was often difficult to convince other men in the government of the huge necessity for a maternity clinic in Badgji. We also discussed trauma amongst women in the community, and while it is something that the government largely wants to address, we found it interesting that the government doesn't connect mental illness and trauma, so that will be another obstacle we must face.
Orelia is currently planning another trip to South Sudan in December to continue work on the maternity clinic project. In the mean time we have taken to fundraising by selling bracelets, jewelry, and other hand made crafts by women from Juba.
Update from Irvine Peck's Agaya ('18) in Gabon: On Education, Soccer, and Politics
 I went to Gabon for two weeks right after spring semester ended. I was excited and full of joy. The last time I visited Gabon, I was pretty young. About seven years old if I remember correctly. I remember not wanting to go there and wanting to enjoy my summer in France with my friends. Looking back at it, it was silly and when I left the U.S. on May 16th 2015, I was decided to enjoy my trip and love every moment that I was there.
(courtesy of Irvine Peck's-Agaya)
The country is beautiful and the people are amazing. I had lots of fun and learned many things about my cultures that I was unaware of. Amidst the beauty and the joy that I found there, I also saw a lot of sadness, frustration, and disappointment. Those stemmed from the political situation there. Every morning, children in school uniforms could be spotted walking around town because once again school was closed. The teachers have been on and off multiple strikes because they have not been correctly paid since about 2009. Many people are forced to leave the country to fulfill an education, but that is only if they can afford it. I met a college student who went to school for half of the fall semester and did not go at all for the spring semester because students were rioting and professors were striking. Some professors decided to teach again so she, along with other students, now had to catch up on the semester they missed during the summer. These students are however the lucky ones because not every professors or teachers returned to teach. When students went about a semester or a year without going to school, it is called "Année Blanche" (white year). The tolls of the many Année Blanche were seen with youths who had too much free time and not many activities to fill up their time with so started partaking in illegal activities. It also left teachers and professors unable to support their families. My mother and I met a teacher who had 0 fcfa [local currency] in her bank account.
While the Gabon's educational system is failing, the president has allocated most of the country's money to his and his cabinet's personal needs and his interest. Ali Bongo Ondimba, the dictator of Gabon, enjoys sports so he has allocated much of the country's money to soccer. He built a beautiful stadium in the capital, Libreville, and destroyed many people's home in order to host the African Cup of Nation in 2012. Now he is building another stadium in another province to host African Cup of Nation of 2017. He went as far as paying Lionel Messi about 2.4 Euros in order to set the first stone of the stadium, and he proceeded to personally drive Messi around the city. This action caused many protests in the country as it is money wasted that could have been used toward paying teachers. The situation is still under investigation as the dictator claims that he did not pay Messi.
As the presidential elections are coming up in 2016, many expect that there will be altercations between citizens and the military as members of the opposition party have decided to put an end to the Bongo regime and the people is unhappy. Also, Ali Bongo Ondimba wants to hold power until he dies like his father did. His father Omar Bongo Ondimba was president for 42 years from 1967 until he died in 2009.
I still do not fully understand the political issues in Gabon, but I know that it is in a trouble state. I am trying to stay updated with the situation there. I am glad that I went back to my mother's land and I am looking forward to my next visit there.

Stadium in Libreville by Night (courtesy of Irvine Peck's-Agaya)
LIVE Blogging at The Africa Innovation Summit at Wesleyan
Nov. 7, 2014
Jasmine Mack'16
Currently everyone is taking their seats.
Introductory Remarks: Olayinka Lawal'15 currently introducing the key note speaker and beginning the summit.
Keynote Speaker: No one is useless in this word without burdening another.-to feel useful for someone. (Hirut M'Cleod quoting someone about Thanksgiving)
Hirut M'cleod'00 is talking of her experience with a homeless person and being humble. "Wesleyan gave her a chance to make a stand", "To know what you stand for", and how the "what" evolves. She spoke on core values and how they change the what, but she said the "what" doesn't change. She believes everyone deserves to know their destiny and to be the master of their fate. She is describing the idea and definition of Disruptive innovation. She believes we should dialogue about what our work means for someone and have these hard conversations and define the purposes. She is speaking on how to define purpose: To have an understanding, to always sweat the details, Implementations matter, and People want to be respected with dignity.
She is talking about her home Sierra Leone. She is saying a quote, "Devils larger than life mythical things that you avoid", and how the Ebola workers look like devils. As in the workers should come in and treat the people with dignity and treat them like people that are human.
She is saying, "Take disruptive implications to the people." This means to take disruptive innovations to the people.
Her professional values come from her opinions and experiences. She Quotes George Bernard: "Are you willing to unfold your own personal myth?"
ALA:  She is an alum currently giving her goals, description of ALA, and experience after Wesleyan via a video.
-Kaitlyn Patillo'12
Panel # 1 Children & Youth: First Moderator Professor Alice Hadler (Associate Dean for International Student Affairs)-teaching at Wesleyan for 20 years. 2007 first taught Write About Places: Africa.
Steve Kallaugher'73 Young Heroes-created after he left the peace core.-Where did this mamba come from"-name in Swaziland. In 2004 there were no organizations or systems to help battle the aids disease. There was only the peace core left. Saw many orphans left behind because of Aids. The orphans became his focus. 40% of children left behind under the age of 18. He stepped in with grants, stipends for food, clothing, tuition, a healthcare program through Baylor Medical School. They support students until they are 19 and then they become eligible for loans once they enter the Step program. In a way they are a relief program. It has been going on for 9 years.
John Manners Ken SAP-He started out as a journalist and later started this program is an athlete program for Kenyan Student Athletes Program-founded in 2004. He and a colleague wanted to extend opportunity to an area where privileged opportunities didn't exist.  They wanted to get ordinary students from rural areas get into top schools. They weren't trying to seek athletic scholarships like state schools. They went around to head masters to see who had the potential from rural backgrounds, students who did not come from privilege, and had done well on the KCSE (national high school exam). 6 kids made the programed, 5 got into schools, 3 to Harvard, 1 Wellesley, and other top schools. That is when they realized this was bigger than that. Next year there was a first student to go and graduated from Wesleyan in 2010 and is getting a PhD at Yale currently. 8 years later he realizes now that they are doing disruptive innovation that will allow these students to create a group of leaders. He believes that a liberal education is important for these students to get this experience. He wants them to get moral training and believes that these kids will constitute a different caliber of leadership.
Marina King'16 Shinning Hope for Communities- based in Kenya where the largest slums are, fundraise, and raises awareness for the Indio's gender and culture.
SHFCO-is about being a part of the community instead of taking over as a foreigner over the education system. A health center, library, computer center were built in Cubera, Kenya, one of the largest slums in Kenya. This group helps girls go to school. At Wesleyan they do fundraisers, panels, and events to help this community of girls.
Questions: What is the difference between genders in the Ken SAP program by Orelia Jonathan?
John Manners Ken SAP:  60-40 male female. Most have male, 2 female at Williams & Smith. Minimum-mean grade of A plain 1% of half of test takers are eligible. Most students in program have graduated college. Selection is based on detailed application similar to Common application, family finance background, also try to gage and see how students represent themselves and want outgoing kids for survival (and bang for its buck). Everyone has to run 1500 meters. 3/4 does badly and the running is the last part on the exam. Over course of the program students become better athletes. Some coaches are hand holders and some are not. Some students are distinguished athletes and told of some examples. John Manners Ken SAP
Q: How is the program impacting the community's educational systems to be eligible of your program?
John Manners Ken SAP:  It is not impacting on how they approach high school programs. The schools primarily center on the end of the year high school exam. Have to be persuaded that the program isn't a scam, that these colleges are great, and to get parents to cooperate. John Manners Ken SAP
Q: Where do you get your funding and what are you challenges?
John Manners Ken SAP: For Ken SAP they get donors. We do need more money, students need financial support.
Steve Kallaugher'73: I've Been called an orphan for asking for money and to ask for help for the operating cost. Runs an adventure trip to Swaziland, fun camps, corporate foundations, just in the month I've done 14 grant proposals.  Steve Kallaugher'73
Q: To what extent have you started using your business endowment to sustain you in years? How do you sustain education in the long run? What is your relationship to the state?
Marina King'16: I'm just a student relay person for SHFCO. They have been able to open schools, have gotten more funding, but have not started an endowment. It's really amazing to hear the girls' stories and experiences about their future career aspirations. Marina King'16
John Manners Ken SAP: A donor who meets 80% of our funding and we would like to have an endowment. We have alumni and some have been able to contribute to ad hoc endowment. It will be 10 years until students who become alumni will be able to give back to the program. I have been discussing with the board to sustain this program.
Q: USAP He is very concerned with the economic backgrounds and does your program mostly consider the economic background?
John Manners Ken SAP: USAP does have a ceiling for economic backgrounds and it is highly successful. We do best to get kids with a low economic background, but there is not a cut off. We have started to come with a holistic approach. We have taken kids from high educational back grounds, but we lean highly in favor of needy families.  John Manners Ken SAP
Panel #2 Business & Development:
Jim Brenner'79 Broad Cove Partners-huge need for money in Ghana and led to raise money in the US from institutional investors and help mortgage bank in Ghana. President of Liberia in 2007 called him and they started a constructional mortgaging program to help build houses for people moving back into the diaspora. Africa has a very risky capital, but need small amounts of money to start these programs off.
Mikako Tai'11 Africa America Institute-Entrepreneurship, partnerships with local institutions  to help, bring together leaders from all sectors through conferences to talk about these issues, and have summits who care about development in the continent. President Obama power Africa, talk about conversations on Africa, and have been around for 60 years. Focusing on the continent to develop the continent for the employment, they have a transformational employment program for leaders of smaller organizations to get financial help to take them further.
Oladoyin Oladapo '14 JóòMah-cofounded JóòMah.  JóòMah is a job application for sub-Saharan Africa. It serves to match the best applicant with the job looking for the skills that best meet that job. They launched in Ghana about a month ago, looking forward to going to Nigeria soon, and the rest of sub-Saharan Africa. For JóòMah the large problems is not having access to jobs
Moderated by Anthony Keats-Professor of Economics
Questions & Answers
Q: What is your primary focus?
Mikako Tai'11: Focusing on skills and partnerships. They are focusing on education and partnerships with African Government.
Jim Brenner'79: America is completely set-up to do business with people you've never met with the assumption to trust everyone. In Ghana there are problems of not trusting and not knowing people. They weren't from their village and not from their church. Until 2009 people weren't reporting loan borrowers. There is a lot of catching up to do as far as business. On a political note, until the Africa Union works together their will be a problem of catching up.
Q: To what extent have you thought about to make these matches work better?-addressed to JóòMah
Oladoyin Oladapo '14: Whatever the employer is looking for, the process will be cheaper, faster, and access to more talents. There will be an issue of nepotism, but the trust factor will grow.
Q: Who mostly uses the platform?
Oladoyin Oladapo '14: Most employers are using platform to send out to job seeker they want to apply to their jobs.
A summary of what Jim Brenner'79 said was using technology to have a low cost efficient way in registering land and dealing with the majority and politics in power.
Q: What are you examples in building in Universities and programs?
Mikako Tai'11: Pan Atlantic University in Lagos and two others. We are the entity that looks for funding, Leadership, and management. Holistically we are trying to create a higher capacity for these institutions.
Q: Could you talk about your role in networking and how do you see it building other ventures on the continent?
Oladoyin Oladapo '14: Networking is starting at a base. Also take a break from networking to have a product to network with. Starting with the base of getting involved and making those relationships. Half of the members of JóòMah are from Wesleyan. Leverage from those connections and let those relationships grow.
Q: What do you recommend for students who just graduated to find jobs on the continent?
Mikako Tai'11: We look for more people who have the most tangible and skills technical training. We provide hands on and technical skills training. We aren't just focusing on PhD and degree applicants.
Panel 3 Healthcare:
Tiffany Aquino Unite for Sight-worked for partners in health for Rwanda -grateful and impressed to be surrounded by such individuals on the panel. She started with a strong commitment to social justice and now going on a venture for mental health. Had a concern for disconnect of foreign individuals versus people who have connections with locals. She wrote a thesis of appropriateness. She also is a part of the Global Health and Innovation Conferences held at Yale University.
Shadrack Frimpong, Healthy Africa-He is a student from Penn State; he's a part of the Botswana Union ship program, and majoring in Biology and Global health. He told of his experiences and his hometown in Ghana about Healthcare centers. He wants to become a HIV researcher.
Chelsea Tweneboah'15-She interned at Cape Coast Regional Hospital, the legal and medical center for New York, The Dominican Republic, and Mexico.  She is Chemistry major and started with Health because of her mother being a nurse in the emergency room. She is very interested in international health, community service, and helping others. She did research to find internships on global platform and found an internship in Ghana because it was safe due to her parents being from Ghana. She learned to understand government, organizations, and communities. She told of her situations of being in uncomfortable experiences to become a stronger person.
Moderated by Laura Ann Twagira, Professor of History
Left at 5:20
A Response to the Ebola Panel
Kevin Winnie '16
 Attending the Ebola information panel and researching more about the Ebola virus, I have come to an understanding that the American and international response to the widespread outbreak has been nonexistent while Western media perpetuates stereotypes of Africa. As the Ebola virus has become more widespread across Liberia, Sierra Leone and Guinea, combatant forces in these countries are obstructed as leaders in the field of fighting Ebola have contracted and died from this disease, yet the United Nations refused to send these experts to receive treatment in Germany. Instead, the United Nations and United States have transported white Americans and Europeans, which illustrates, not only a preference for the lives of Westerners over those of Africans, but a racist response to a situation that is largely affecting more blacks than whites. This raises the question of whether the US, and by association the UN, should help these West African countries combat Ebola? All answers show that the US/UN helps nations that are in crisis if the United States has a vested interest in the state as we can see in the US intervention in Iraq, a nation that has a large amount of oil, or Vietnam, a country that symbolically represented the struggle between communism and capitalism during the Cold War. Hence, when these Ebola stricken countries seek help from the West, these nations receive a cold shoulder because they do not offer any benefit for Westerners in exchange for assuaging the devastating effects of Ebola.
While the response from the US and UN has been inadequate, the media perception of the Ebola virus is equally detrimental as media does not accurately reflect the extent of which Ebola will spread. Currently the Ebola virus is prevalent in three West African countries of Liberia, Sierra Leone and Guinea. Other countries in West Africa, specifically Senegal and Nigeria, have effectively controlled the virus as their medical infrastructure is resilient and stable compared to the three other West African countries. Similarly, the mass spread of Ebola to the United States is improbable because the United States possesses the infrastructure to effectively control and eliminate the disease within the US border. The only exception to this was in Dallas, where the medical personnel mistakenly handled the situation.
The media's presentation of the Ebola virus in these West African countries perpetuates the myth that Africa is a disease, impoverished continent. In the panel by African Studies, Professor Twagira showed images from the international intervention in certain West African countries. Often times these images portray medical personnel fully clothed in HAZMAT uniforms and West Africans half naked in hospital beds. These images from the media allude to Africa as poor, unstable and in dire need of Western assistance, which is not the case.
The response to the Ebola outbreak in West Africa has, not only been inadequate, but ignorant as the media represent this virus in an ill-informed fashion while the United States and United Nations lackluster response is equally uninformed and nonexistent. As hysteria in the United States about Ebola increases, one could only speculate that an international response for West Africa is less likely as Americans will want an intense focus on domestic cases that are generally minimal and controllable.
For more reading on the Ebola outbreak:
http://www.globalresearch.ca/ebola-cholera-the-epidemiology-of-anti-blackness-and-the-white-savior-industrial-complex-black-lives-dont-matter/5403954
http://www.motherjones.com/mojo/2014/10/rwanda-ebola-americans-screening
Examples of faulty images:
http://publichealthwatch.wordpress.com/2014/06/20/africas-deadly-ebola-outbreak-is-totally-out-of-control/
Believing everything you hear on the News is highly problematic
By Jasmine Mack '16

After recently attending the Ebola panel I learned so much truth and how the media in America is causing a great scare throughout the country. Right away into the panel we are properly informed by Bill Johnston about what exactly Ebola is and the history why Sierra Leone's health infrastructure is low. The Ebola virus is a virus that injects RNA into the humans. There are 5 different subtypes of Ebola and Ebola –Zaire is the most dangerous. Ebola-Zaire has been around since 1977 and is the sub-type that is affecting Sierra Leone currently. This strand affects the immune system and vascular system, and as it increases in stages it basically breaks the body down. The Ebola-Zaire is not affecting the entire country of Liberia; it's mostly in the regions near and in Sierra Leone.
After Professor Laura Twagira's section on Media, we come to this conclusion that the "media" doesn't help see the range of potential solutions. The media has made Africa, which is a continent of countries like America, seem like this scary place of wars, diseases, underdevelopment, and lacks in civilization which perpetuate bad stereotypes. Respected news journals like New York Times have also presented Africa in negative and exaggerated views. The main reason Sierra Leone's health infrastructure is low is due to the civil wars in the past, however they have qualified staff, nurses, and doctors is just because the healthcare system here is low there isn't enough staff here to help. Basically the nurses in this region are mostly women who are working 24/7 with patients who are sick and there can be instances of accidents because they are understaffed. Although Sierra Leones health infrastructure is low, it does not mean all of Africa or West Africa for that matter is inadequate. For example, student Amarachi Asoyne who recently this summer interned in Nigeria for the study of the healthcare system saw the immediate response of the strong infrastructure of the Nigerian healthcare system in preparations for the Ebola-Zaire outbreak. Senegal is also another strong health infrastructure in West Africa whose work goes unnoticed in the media. The media is sending mixed messages about this epidemic that is causing fear that does not help the problem get resolved.
The International response to aid this crisis first was the Africa Bank, Canada, and even Germany as well as other countries. The World Health Organization should be the leader in this crisis, but they are not doing enough. They don't have enough professional doctors, the budget has been slashed, they are short staffed already because of MERS, and they don't have the resources to help anyone currently. The U.S response happened once American citizens were affected, except they plan to send 4,000 soldiers to help with a virus? The CDC and several other news media are reporting the worst possible outcomes and estimating possible deaths. There have been actually about 7,000 total deaths within the several years since Ebola-Zaire has existed, not 1.4 million that has been reported in News. This virus can only be transmitted via contact with bodily fluids. This virus is not airborne which has been also reported in several news media. There are no zombies and Ebola-Zaire has not killed millions like the Influenza that is highly prevalent in the U.S. Days after this panel I learned Thomas Eric Duncan died in the Unites States October 8, 2014 even with a strong healthcare structure, yet other Americans were quickly treated, taken to the best hospitals that were prepped for this virus, and cured of this pandemic with a vaccine. I'm slightly appalled by how the media and the government are handling this epidemic versus other countries.