The Christopher Brodigan Fund was established in memory of Christopher Brodigan, a Wesleyan student who died in an accident in his frosh year. The Fund pays tribute to Christopher's deep interest in Africa and to the public service he provided through teaching in Botswana prior to entering Wesleyan. Awards will be made to graduating Wesleyan seniors (first priority) and recent Wesleyan graduates who plan to pursue public service or research (in that order of preference) on the African continent.
Students from any discipline are encouraged to submit applications proposing a public service or research project. Service projects should be carefully designed to provide some form of valuable assistance to people in Africa. Students may propose to provide service in educational institutions, development organizations, grassroots groups, or non-governmental organizations pursuing service work. Research projects will be supported especially if it is likely to provide concrete benefits to African society or to contribute to the student's ability to serve African interests in some capacity.
Several awards of up to approximately $3,000 each will be offered. Applicants are strongly encouraged to consult with a member of the African Studies faculty (see Faculty listing on this website) while formulating their proposals. Recipients are required to submit reports on their projects once they are completed.
Application Instructions
Applications should include:
A proposal (2 pages) which includes the following information:

Description of project
Plan for carrying out the project
Identification and description of any sponsoring organization
If appropriate, the proposal should address any concerns regarding safety or political sensitivity

A budget, including airfare and room and board costs (1 page)
A resume, including a listing and description of relevant Wesleyan coursework or other experiences
The name of one faculty member who can serve as a reference for you and for your project
Applications should be submitted by email to Professor Laura Ann Twagira in the Department of History (ltwagira@wesleyan.edu).

Due: check back in early spring 2016 for the next deadline.



For guidance on writing a successful grant proposal, please consult "The Art of Writing Proposals" on the Social Sciences Research Council website. Students may also consider contacting last year's recipients (listed below)to request copies of their proposals and tips on writing an effective proposal.
About "Ghana Writing Project"
Esi Quagrainie '14

Report from Summer 2014
"I have had three classes with them so far. It has exceeded all my expectations – the students have been so respectful and extremely eager to learn. They are always very happy to see me and they have done all the reading and writing assignments I have given them, all 30 of them, which is a very good sign. I am not very sure if I mentioned this in the last email I sent but I decided to go for a much older year group; 15 year olds. This group will be taking their B.E.C.E's next April, which is a Ghanaian wide exam everyone in the public school system takes to place them into Senior High School. I did this in the hopes that we could have deeper conversations about the books we were reading. Unfortunately, this has been far from the case. I have come to realize that their level in reading and writing is not what their teachers had told me. They are very behind their age mates in other parts of the world. We are using Ngugi Wa Thiongo's, Weep Not, Child and Chinua Achebe's Things Fall Apart. If I had  known their level before I purchased the reading material, I would have most probably gone with other choices. I am making it work, though – I have made several adjustments to my original syllabus; I have incorporated spelling and dictation exercises, a mandatory vocabulary diary for each of them and also I have had two of them lead with me in each class, to improve their public speaking skills.They seem to have really enjoyed the classes I have had with them which is a good sign"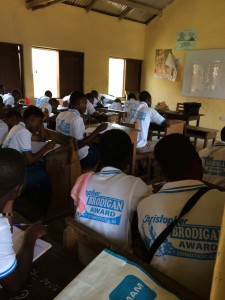 Previous Recipients
2015
Holly Everett (South Africa), TB-HIV Immunology Research at the Epicenter of the HIV Epidemic

  Holly will work at the KwaZulu-Natal Research Institute for TB & HIV (K-RITH) in Durban (South Africa) in the laboratory of Dr. Thumbi Ndung'u. At K-RITH she will examine the expression of key genes involved in the immune response to Tuberculosis and HIV in the blood and lungs. She will employ a novel immunological technique to investigate the role of these cytokine genes in influencing susceptibility to TB in HIV-positive individuals. As part of her rotation in the Ndung'u lab, she will transfer the assay used in this project, the Affymetrix PrimeFlow RNA assay, to other labs at the institute to expand the scientific repertoire at K-RITH. These studies and the technology they utilize have the potential to help inform treatment of TB-HIV co-infection in South Africa. During her time in Durban, Holly also plans to shadow clinicians at the adjacent Nelson Mandela School of Medicine at the University of KwaZulu-Natal.

Chloe Holden (Uganda), An Education Project at Peak Kindergarten in Kampala
Geneva Jonathan (South Sudan), Giving Birth to Hope: Community Development for Women in Badgji
Orelia Jonathan (South Sudan), Giving Birth to Hope: Community Development for Women in Badgji
Ibironke Otusile (Nigeria), Healthy Drinking Water Outreach in Makoko, Lagos

  Ibironke will intern at the Lagos State Environmental Protection Agency (LASEPA) in Lagos, Nigeria this summer. She will work with chemical engineer Rasheed Adebola Shabi, the general manager of the organization, to analyze data related to pollution, its causes, and its effect on Lagosian's health. Ibironke will help compile this data into a report for future publication and shadow LASEPA scientists and researchers as they conduct field visits around Lagos. With the information gathered from these reports and observational studies, Ibironke will then create a lesson plan and travel to different schools to teach about the importance of recycling and not littering due to the negative effects on health.
2014
Esi Quagrainie (Ghana), Ghana Writing Project
2013
Immanuel Lokwei (Kenya), Kainuk Women's Group
Alexandra Galef (Morocco), High Atlas Foundation
2012
Allana Kembabazi (Uganda), Enlightenment Uganda, malaria prevention
Kennedy Odede (Kenya), Shining Hope for Communities
Otis Poisson (Tanzania), Engineering Clean Water Collection
Aaron Sarvet (Ethiopia), Mental Health Capacity Building
Oluwayimika Taiwo-Peters (Nigeria), Hope for Gishiri, youth empowerment
2011
Alix Haber (Kibera, Kenya), Shining Hope for Communities Community Partnership Project
Emily Kossow (Botswana), Princeton in Africa project on improving pediatric HIV care
Kelly Morgan (Morocco), Anglophone-Francophone liaison and arts events support with Conseil des Migrants Subsahariens au Maroc
Max Perel-Slater (Shirati, Tanzania and Kibera, Kenya), Health is In Your Hands Project
Jessica Steinke (Kibera, Kenya), Shining Hope for Communities, Reproductive health and sexual education
2010
Michael Frank (Bamako, Mali), Mali Health Organizing Project (MHOP)
Alexandra Klass (Cairo, Egypt), St. Andrew's Refugee Services
Arielle Tolman (Nairobi, Kenya), Maternal Health Initiative of Kibera
2009
2008
Nate Ash-Morgan, Cape Coast, Ghana, "Development of the Sankofa Center for African Arts"
Devon Golaszewski, Bamako, Mali, "Community-Based Health Financing with Mali Health Organizing Project (MHOP)"
Jettie Word, Yaounde, Cameroon, "Combatting Education Deficiencies at the Center for Communal Skill Building"
2007
Heather Craig, Dar es Salaam, Tanzania, "Video Education with the Dogodogo Centre for Children's Rights"
Gabrielle Fondiller, Likoni, Kenya, "Research of Micro-enterprises, and Expansion of Likoni Scholarship Fund"
Peter Glidden, Beposo Village, Ghana, "Building a School in Beposo"
2006
Andrew Aprile, Madagascar, "Valiha High Scheme"
Genevieve Edens, Dar es Salaam, Tanzania, "Affordable, and Sustainable, Housing in dar es Salaam" (Women's Advancement Trust)
Una Osato, Durban, South Africa, DramAidE
2005
Lindsay Clarke, Cameroon, English Language Instruction in Francophone Cameroon, Dschang (Breaking Ground)
Lee Grodin, Nigeria, Addressing HIV/AIDS through Educating the Community, Abjua
Ana Weibgen, South Africa, We Help Our Children, Wentworth
2004
Samuel Bathrick, Ghana, The Gina International School Photo Project, Medina (Deviwo Projects)
Carl Cervone, Tanzania, Expanding Agro-Forestry and Soil Conservation in collaboration with The Multi-Environmental Society (MESO), Kambi ya Simba
Lindsay Reynolds, South Africa, HIV/AIDS Prevention with Project Empower, Durban
2003
Lee Coryell, Nigeria, Positive Living Program, Abuja
Coleen Galbraith, Kenya, AIDS relief work with the International Community for the Relief of Starvation and Suffering, Nakuru
Katie Glick, Ghana, Women's Initiative for Self-Empowerment and the Ark Foundation, Accra
Piper Sledge, Tanzania, Emosui Project, Arusha region
2002
Josh Dankoff, Nigeria, "Young Men's AIDS Education Program," Abuja
Danielle Heard, Tanzania, Tanzania Gender Networking Program, Dar es Salaam
2001
Nicole Stremlau, Ethiopia, Tigray Development Association/Writer with "The Reporter" (newspaper), Addis Ababa
Monique Coquoz, Burkina Faso, Comunita' Impegno Servizio Volontariato
Christopher Jeffries, South Africa, Joint Centre for Political and Economic Studies, Johannesburg
Myra Sessions, Botswana, Women and Law in Southern Africa Research and Education Trust
2000
Malaika Syphertt, Ghana, "Combating Child Labor Through Education"
Sarah Wilcox, South Africa, Centre for Conflict Resolution, Cape Town
1999
Daniela Lewy, Tanzania, "Beyond the Limits: From the Tanzanian Streets to the Tanzanian Trails"
Rachel A. Quinn, Ghana, "Human Resource Development: Teaching in a Primary School in a Rural Ewe Community"
Johanne Severin, Mozambique, Mozambican Association for the Development of the Family (member of the umbrella group Pathfinder's Program)
1998
Sarah Bowers, Zimbabwe, Mbuya Nehanda Training Centre (home for former street children and AIDS orphans)
Rachel Wellborn, Zimbabwe, Harare Children's Home (Steve Katz Foundation)